Rainy Day & Thar Famine
By Khadija's Creative Mind on March 26th, 2014
Well its a random post filled with some clicks after the Rain & beauty of newly shining buds..these were filled with rain drops.. So here I am going to share something else too, lets see..
Right after the rain, when it stopped I take a few clicks of fresh leaves..
There are thrones of plant with some fresh leaves..
A Rain drop with some soft new leaves!
Grapes leaves with rain water..
The freshness of spring!
Rose plants are these days filled with loads of rose buds, I will be sharing some images of flowers in another post..
And the Sky filled with rainy clouds..
Its a good evening actually! some clouds over the dawn.. looks pretty.
Lets see if there will be more rain tomorrow BUT!
As it was an ordinary post, but I want to share something extraordinary! When there was raining whole day in my city, Islamabad. on the other side in my country there were people who were badly waiting for a few drops of rain in
Thar desert.
People & animals are going to die because of no rain..
Lands are dry.. waiting for rain drops..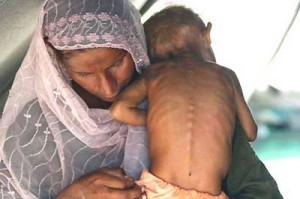 After some rainy clicks from my camera eye, then I browse & saw this image of Thar famine victims, I don't want to share any click like this but there were more than 300 kids died after the famine situation in Thar desert. People are surviving in worst condition because of no rain there. Desert lady in search of water!
I just want to request you all to pray for the innocent people of Thar Dessert, They are surviving in worst condition..
Pray for heavy Rain in their area
& try to help them via your donations as well.. May God shower His unlimited blessings over there & help them in living a life filled with all the blessings.. we can't imagine living the whole day without a glass of water but see these people are also human & a part of us as a nation & an ummah.. May God help them soon..
I don't know what to write, but I should write something!!
Please Don't waste even a drop of water, there are things we are throwing, but on the other hand people are praying for! so Be careful..
Have a Nice Day!
Khadija
www.creativekhadija.com