Card Making Ideas For Eid Greetings #CreativeCollections
Almost half month of
Ramadan
passed Alhamdulillah & now countdown started towards
EID day :)
Giving and getting
Eid cards
seems outdated? Nope..who said?
Handmade Eid cards
are still very trendy & unique. I am
selling handmade Eid cards
these days & the positive result shows people still love giving and getting
Eid Cards
. Today I am sharing
Cards Making ideas
& some
paper quilling
creativity with my dear readers! I hope you will be enjoying these card making ideas :)
Card Making Ideas For Eid Greetings #CreativeCollections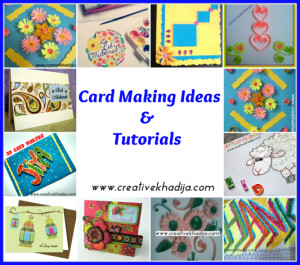 Here are some pretty Card Making ideas for you to try! I am sure you can get lots of crafty inspiration from these beautiful handmade cards. Have a look at these now :)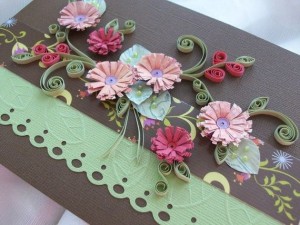 Paper quilling cards are simply amazing! they look so cute in fact.
paper quilling cards

handmade eid cards making! so cute
This card can be perfect for bridal shower party or may be for bride's maid invitation? so lovely!!

This simple card I made once a couple years back! I put some rhinestones & paper quilled flower too. Se the tutorial HERE
I made this above Eid card at Eid al Baqar last year! I use mod podge collage clay for the texture. See Tutorial HERE

this colorful card seems like fabric based but how colorful..simply attractive :)

This is one of the most simple Eid card making idea, put a colorful scrapbook sheet on card & print Eid Mubarak over it. Easy enough?
Eid lanterns card[/caption] This is so cute with an addition of pretty lanterns! how pretty!
One of my favorite quilling card I have made so far! Enjoy Tutorial
paper-quilling-art-[/caption]
This quilling card was my first ever quilling card. I made it many years back. HERE is the detailed tutorial of it.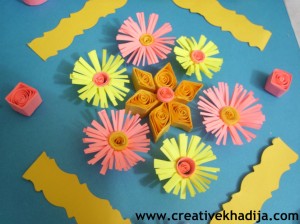 Another paper quilled card! simple yet colorful. Here is the TUTORIAL.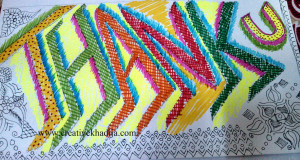 Thank you cards[/caption] If you feel above techniques are a bit difficult for you, then dont worry, get a bunch of colorful markers & make some typography! then color it & fill it with some doodles.. Simple?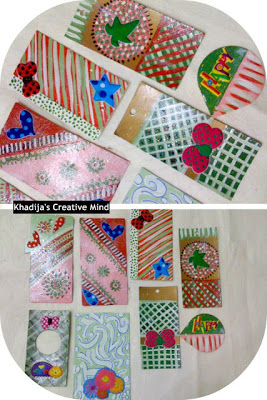 These painted bookmarks are one of my favorites! I made these once but still keeping some of these. These are made of recycled clothing tags but cute..See TUTORIAL. I hope you liked having a look at this collection of handmade cards made by other crafters as well as others are my own! Let's make some handmade cards at this Eid & greet your family and friends in a different creative way! I bet they will be appreciating your creative skills. If you want to buy handmade Eid cards, feel free to contact me. I am working on cards making for sale these days! I hope you will like having my handmade greeting cards :)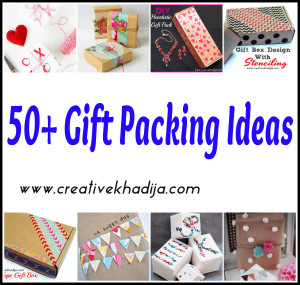 Have a look at my other Creative Collections. I have collected some interesting stuff in these articles. Be sure to use the SHARE buttons for spreading these ideas to your family & friends. Have a blessed day! Khadija ~