Creative Khadija Round up of the year 2015
Hey everyone! How are you all doing, It's
raining here
right now! I am going to publish the
LAST
article of this month
June 2015
..Let's talk about
Creative Khadija's 6 months roundup of creativity
during 2015. I enjoyed blogging during these 6 months even more.. Now year 2015 passed 50%. So many
fun experiences
during these months & Alhamdulillah so much
success in online sales
& work. I will not be saying time flies but it is the fact that
time flies faster than we think..
Here I am going to share a recap of the half year 2015. So have a look again what I have been shared during this.. So if you missed something.. You can check again via the link I am giving.
Creative Khadija Round up of the year 2015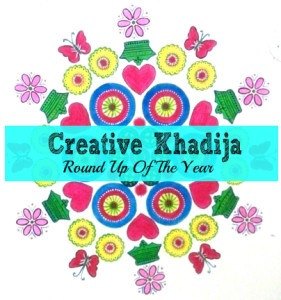 The first article I have shared on the blog was the Birthday of Holy Prophet Muhammad SAWW. So blessed to be HIS follower. Alhamdulillah.
DIY Photography Ideas
Street Graffiti Art Pakistan
DIY Paper Flowers-Recycling
And then in the month of January its my birthday too :) So January is special.. haha I were having two sponsors during this month, Daraz.pk and Glassesshop.com
Design a Purse with WashiTape
Street Graffiti Art Pakistan-2

Gift Packing Idea for Valentine's Day
Rhinestones on Shirt Embroidery
I also share about
Multani ceramics art
pieces!
Decorate Accessory Container with Collage Clay

DIY Glitter Key-Ring Idea
Small Planter Pot GlassPainting
I also share a random article related
Multani Camel skin lampshades
And
Spring in Pakistan
Clutch Refashion Ideas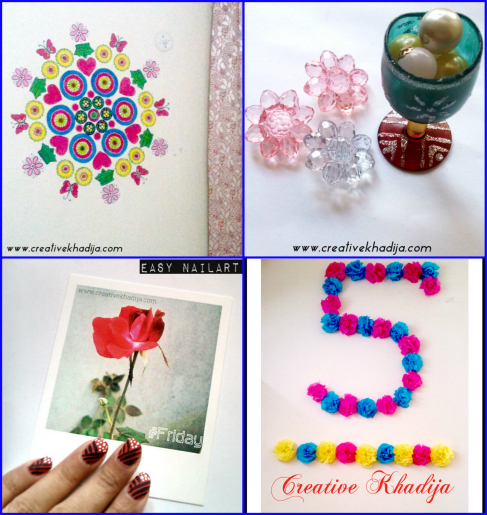 April was my favorite month of blogging.. I made a wall art on my craftroom wall which turned into my logo now! And in April.. Creative Khadija turned 5 Years old.. OMG.. I can't believe..I love it.. See here:
Spring Inspired Colorful WallArt DIY
Glass Decoration Idea
Follow Creative Khadija
DIY Easy NailArt Design
WashiTape SwitchBoard DIY
Creative Khadija 5th Blogversary & Giveaway

Creative Khadija 5th Blogversary & Giveaway
Calligraphy WallArt Making for Mother's Day
I started a new feature on the blog with the name
Creative Collections.
I share
Gift packing ideas
in first article.
My Craftroom Sneak Peek

During the month of June, holy month of fasting Ramadan started.. So in my
Creative Collections
Feature, I share an article related food and recipes! I am glad that went viral then :) You can enjoy the
Ramadan Recipes
and Ramadan
Refreshing Drinks
! I design a gift box with henna tattoo and doodles with markers. It was so colorful, I coat it with mod podge sparkle then!
Simply Design a Gift box with henna design
How to make colorful crepe paper flowers for decoration
How to design Anthro inspired chevron mug
I hope you already enjoyed these articles and my DIY ideas. These roundups and Recaps are very helping for me as well, I can easily stuff from my yearly recaps & mid year roundups. Have you done your recap of the blog yet? If yes, then feel free to drop the link in my comments form, I would love to see what you have been done during these months! I hope you are having a good day! Thanks! Khadija ~